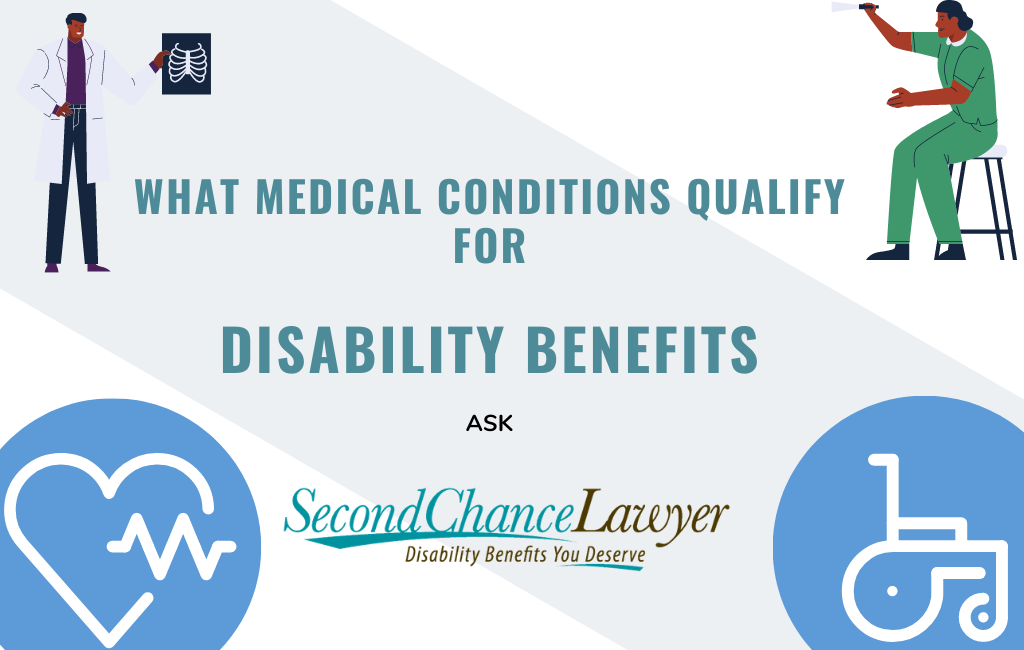 Are you suffering from a medical condition that inhibits your ability to earn a full income? Your first step on the road to a full financial recovery should be to find out whether your medical condition is listed as a qualifier for Social Security Disability Insurance or Supplemental Security Income.
Learn more about your eligibility for social security disability benefits from Second Chance Lawyer and top social security disability attorney, Merryl Jones.
Qualifying Medical Conditions for Social Security Disability Benefits
Conditions that affect the joints and bones
Loss of speech as well as hearing and vision problems
Respiratory illnesses
Cardiovascular problems
Conditions related to the digestive tract
Neurological disorders
Conditions that affect the blood
Mental disorders
Immune system dysfunction
What are my options if my condition is not listed above?
Winning social security disability benefits can be difficult, and individuals are often denied with their initial application.  Having an attorney to defend the right to compensation in an appeal is important. With the help of an experienced social security disability attorney like Merryl Jones, you'll be able to appeal your denied claim and prove your impairment by collecting important evidence and preparing an impactful testimony.
In order to move forward, it is important to understand why your claim was denied. If your condition is simply not listed under the qualifying impairments, you may still be eligible to collect social security disability benefits if you have been forced to stop working, change career paths, or miss work for an extended period. One of the most important factors in a successful appeal is a significant decrease in residual functional capacity. This is the overall capability of the sufferer to exert themselves following an impairment.
Will I need to provide evidence to support my claim?
For a social security disability attorney to build an effective case, it is important to gather as much evidence as possible to prove that the individual is unable to work to the extent they would under unimpaired circumstances. Merryl Jones will help you gather and organize all relevant evidence before your hearing so that you are prepared. Such evidence may include medical examinations, documents indicating treatments, blood work documents, X-rays, and other medical scans.
Merryl Jones is among the most respected social security disability attorneys in Waco, TX. If you are suffering from a serious medical condition, contact Second Chance Lawyer today for a free evaluation!